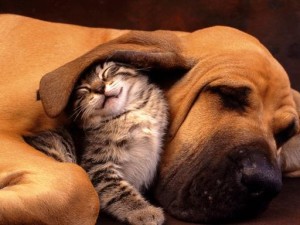 I know—sounds kinky, right?
"Down, boy!"
"Kitten want a treat?"
But it's not what I have in mind. So let's start again.
Q: What do successful relationships have to do with animal control?
A: Five letters. A-S-P-C-A.
In the world of cats and dogs, that stands for the American Society for the Prevention of Cruelty to Animals.
In Relationship Land, it's an acronym for five modes of relating that collectively create a great foundation for loving intimacy.
A as in Attention. This is where it all begins. No attention means no intimacy. Quality attention means the framework is there for love to emerge.
S is for Support. This means being there in a constructive emotional (and, if desired, strategic) way when your partner is down. It also means being your partner's light-bearer—helping them to become happier, wiser and more fulfilled.
P is for Play. How many couples forget to do this as the obligations of daily life and the monotony of familiarity come to dominate their lives? Play brings out the child in us. It keeps us young, no matter what the lines in our face or the tugs of gravity may say.
C is for Connect. Ultimately, this is what relationship is all about. Life too, maybe. Over a century ago, the novelist E.M. Forster had this very prescient epigram in Howard's End: "Only connect." It still holds true today.
A is for Appreciate. How often we take our partner for granted! Which, of course, leads to resentment and grievances, either harbored silently or expressed. The antidote is appreciation. Active, conscious, even effusive appreciation.
Together, these five commitments—attention, support, play, connecting and appreciation—create the sort of positive environment that helps relationships thrive. Yes, some couples get off on arguing—it's what gives them juice. I don't endorse this sort of relationship. I don't believe it helps people meet the need we all have for love and acceptance. For that, you need to say "yes" to your partner and you need to keep saying it in all the ways that mean "yes." This doesn't mean tolerating unacceptable behavior. It does mean making an ongoing commitment to do one's best to stay on the sunny side of the street. Positivity is a "virtuous cycle" that creates more positivity, more love, more joy—and that's what we want from relationships, right?
I invite you to try this relationship exercise. For a given amount of time, an hour or a morning or a day, pay attention to how you're interacting with your partner. Make a point of having every one of your communications convey one of the Big Five—attention, support, play, connection or appreciation.
ASPCA means animal control. It also means love liberation.