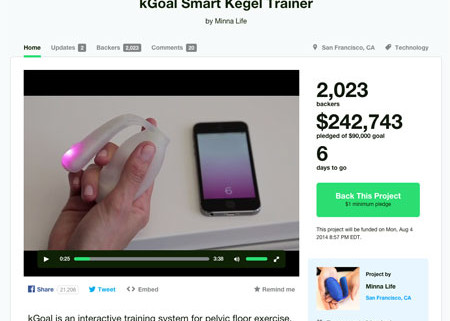 Courtesy of Kickstarter, a new … something has come to our attention—the cleverly named KGoal. You put this, uh, thing in your vagina—it looks suspiciously like a sex toy, but it's not—and it measures how you're doing when you contract and release your pelvic floor muscles. How strong are your muscles? Are you actually contracting them or mistakenly working your abs instead? Have your pelvic floor muscles gotten stronger since l ast week? Fear not, the KGoal answers all.
The usual term for exercising your pelvic floor muscles is 'Kegels.' It's named for Arnold Kegel, the gynecologist who among other things invented the Kegel perineometer, an early forerunner to the KGoal. Kegels are a fine thing to do. They help with childbirth and female genital prolapse. They also help you have better sex. The stronger those muscles, the more you can do with them. Like—squeeze. Need I say more? Actually, yes. They also help you have bigger orgasms.
So yay for Kegels! (Though not for the name—I wince when lady parts, or exercises involving lady parts, are named for men. Like the G-spot, which was named for a Mister Grafenberg who didn't have one.)
As for the KGoal, I'm not sure whether to laugh, cry or applaud. I mean, seriously, do we have to measure everything? It's a cultural obsession at this point, and not necessarily a useful one. The thing about pelvic floor exercises (take that, Dr. Kegel!) is that you can do them whenever. While you're driving. While you're making dinner. While you're having sex. And not just women—men, too. Do you really want to be treating this easy-to-do-while-having-dining-with-the-inlaws exercise like something you'd go out and buy a pair Nikes for?
On the other hand …
A strong pelvic floor matters. It's an important component of overall physical health. Think of it this way: What holds up your inner organs? That's right, your pelvic floor. You don't want to wake up one morning and find your liver on the floor. If it takes a KGoal to help you make your foundation strong, then who am I to scoff? Go for it!
I can't help but see the ludicrous in this, but I want to honor the logic, too.There is enormous ignorance about female genital anatomy. My partner Sheri Winston's book Women's Anatomy of Arousal won a national prize in 2010 because it broke new ground about what's down there and how to make it really, really happy. It turns out, for instance, that there's an entire female erectile network that not even gynecologists or Tantra aces are familiar with. If you want to have over-the-top, killer orgasms (or help her have them!), you'll want to know how to turn all of her on. Amazingly few people have this knowledge—it's not exactly what your usual sex education teaches, is it?
By now, you'd think we'd know everything (and then some) about a part of the anatomy that has been a source of great (if not obsessive) interest to people since time immemorial. But we don't. From this perspective, anything that sheds light on the Mysteries Inside should be applauded.
Like the KGoal.
I can see it now—two singles in a bar, getting to know each other.
He: "I'm an Aquarius. I hear Aquariuses go great with Libras."
She: "I'm at fitness level A+, according to my KGoal."
He: "I think I love you."
(Meanwhile, I—a guy—have done 20-30 'Kegels' all on my own while writing this. Without a device stuck anywhere.)