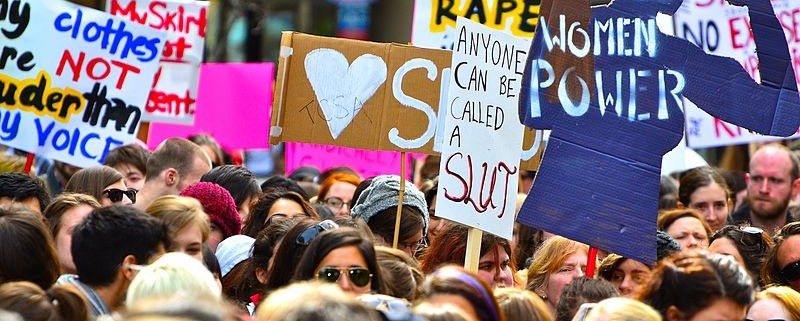 I live in Sex World. My partner Sheri does, too. (It's a good place, Sex World. We like it here.)
Wild-stop orgies? Nope.
24/7 obsessing about southerly parts? Not that, either. By Sex World, I mean something far less sensationalistic. Sex World is a cultural and professional territory that's been segregated from other areas that are viewed as less threatening. Segregated from pretty much every other area, actually.
Segregated. Yup, Sex World is kind of a ghetto.
And its residents? Discriminated against, as with every ghetto.
For us, most recently this means a company choosing not to do business with us, resulting in our being handed a totally unnecessary, last-minute business challenge in the run-up to our big "Buy Sheri's new book and get over $1,000 in great gifts" campaign that's culminating September 14-16.
But I'm getting ahead of myself. Back to Sex World. It's actually a ghetto with two districts, one for those who do pornography and the other for those who don't. It's a big divide. On one side there's the massive adult film industry, and on the other there's the separate (and way smaller) territory where sex educators, sex therapists and a wide and wonderful assortment of sex-positive activists do their invaluable work in the world. There aren't lots of us sex-positive activists out there, but the numbers are growing all the time. Anyone who goes on a Slut Walk is a citizen of Sex World. Anyone who's polyamorous lives in Sex World. Sex World's sex-positive side of the fence is a pretty transgressive place because it's challenging a culturally potent (if not dominant) view of sexuality that's oppressive and, when all is said and done, kind of paranoid.
(There are also sex-positive activists working on the porn side of the fence—Nina Hartley and Madison Young come to mind—but that's another story.)
Lately there's been some low-key media coverage of the fact that people who work in porn are subject to discrimination. Adult film performers have been denied bank accounts. It's even happened to ex-adult film performers! (Residual cooties, presumably.)
This is ugly and wrong, but not surprising. Porn affects people powerfully. Some people are freaked out by it, and when powerful people are powerfully freaked out by something, you'll get lunacy like the gratuitous shutting down of bank accounts. It's an ancient pattern, right? "Let's harass the Jews porn community!"
Here's a little-known secret that the media hasn't gotten to yet. The non-porn district of Sex World is discriminated against, too. More than once, we've been on the receiving end of discrimination here at our business, The Center for the Intimate Arts—and it just happened again, which is why I'm putting fingers-to-keyboard about it now.
Just to be clear, we teach. We write. We consult and coach. We do NOT do porn. (Offered as a distinction, not a judgment.)
Incident #1: We were denied a Small Business Administration loan because we're "in the sex business." We had been assured by our broker that we'd get it. At the last minute, it got denied. The explanation: There's a regulation buried somewhere that bars the government from lending money to go-go bars and other Sex World businesses—apparently including us. Bye-bye, application fee!
Incident#2: We were quoted a price for office insurance about five times higher than what it would have been if we had not been, as per the insurance agent, "in the sex business." What happens in our office? People work at computers. We have occasional meetings. Sheri does consultations. Fully clothed consultations—the scene is no different from what you'd find in your usual therapist's office. You will not find stained furniture there. Yet there does appear to have been stained furniture in the mind of the insurance bureaucrat who discriminated against us.
Ew. Don't want to be inside that brain!
Incident #3. And now there are three. Sheri's book Succulent SexCraft has just been completed. The print version is finished and the last piece of business we need to do is wrap up the Kindle edition. With Women's Anatomy of Arousal, this was a piece of cake. We worked with a company in India that did a fine job, affordably and on time. The book contained sexually explicit erotic art: the company apparently didn't care. We went back to them for the new book and this time got a polite "no." The reason? "As per company policy, we do not engage in any form of nudity as it becomes embarrassing for some of our staff. It is also important that we respect their views."
I get it. They've got morale issues to consider. But it's discrimination anyway. Soft discrimination—but discrimination. The images are erotic art. They're uniformly beautiful.
(And, often, sexy too. Hey, unnamed Indian company—life is sexy. Deal with it.)
So now we're scrambling. We have a really big launch initiative that culminates September 14-16. Buy Succulent SexCraft in paper or digital format and get over $1,000 in free gifts from our 20+ sex/relationship/empowerment coach partners. We've got to get the Kindle version ready by then; mechanical (software) conversion won't work (it's a complex manuscript); we need people who can do it well and affordably.
Will we find someone and get it done? Yes. There's ample time. But there's sweat now where there didn't need to be any.
Because, despite the fact that we're sexuality educators, we're being shamed and discriminated against because we've been consigned to the Sex World ghetto.
Because the topic is, eek, sex!
PS. Do you have Sex World stories of discrimination to share? Please share them with me! I'll include your stories in later posts.