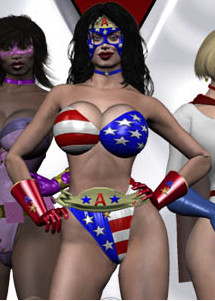 Over the years, I've watched my share of pornography. For strictly professional reasons, of course. My basic response mirrors the response attributed to the writer Erica Jong: "The first time I saw porn, I never wanted to stop having sex. After two hours of watching porn, I never wanted to have sex again."
The vast majority of porn, despite its overlay of titillation, is dreary, dreary stuff.
Why is porn so bad? I've looked into my soul, and its soul, and here's what I've come up with.
What we have, friends, is a crisis of trust. Sex is sexy in direct proportion to the extent that the participants are authentically aroused and being truly who they are while in their passion. This isn't true just for porn. It's true for sex, whether it happens on the screen or in your bed.
With most porn, we can't be sure if the passion is real. In fact, I kind of assume it's not authentic because the context is so damn phony, what with all those breast implants, collagen implants, sculpted vaginas, and the rest.
Doubt isn't sexy. If I'm wondering if something is real, it'll interfere with my turn-on. The crisis of trust is really a crisis of authenticity.
This is why some people like amateur porn. It's less likely to be a performance, more likely to be real. It's also why some people get off on seeing women squirt, which is kind of like a seal of authenticity. Squirting is difficult if not impossible to fake.
But don't trust me on this—let's talk to an expert. Madison Young directs and performs in pornographic movies. She's an active member of what has come to be known as the sex-positive movement. According to Young, "Most mainstream porn is directed by pornographers and producers who are solely focused on mass production.  In this mass-production assembly line, the pornographers are mostly assembling bodies into prescribed positions, using prescribed angles and bodies that are all groomed the same, styled the same, and void of individualism."
I say crisis of trust, Madison says mass production. Pretty much the same thing.
So how do you make it better? According to Young, "The celebration of individual pleasure, the humanness of bodies and orgasms, and the expression of authentic sexual connection are the elements of documenting our sexual culture that are the most captivating to watch. I try to let the performers' individual sexual desire and humanity shine through."
When Young is behind the camera, she imagines that she's doing a wildlife documentary. Watch, mammals having sex! It's a fabulous perspective. I mean, really, what could be more authentic than tigers humping in the wild? Just the thought starts to bring out the beast in me.
She elaborates: "My job as the director is to provide the performers with the support that will let them let authentically explore their sexuality and desire as it exists in that very moment.  Then I simply follow the beauty with my lens."
Exit, crisis of trust.
So how do you find the really good, authentically passionate porn? Peruse the mainstream porn channels and you may get lucky. The odds are pretty low, though—you may have better things to do with your time.
Your odds go up if you go the 'alt porn' route. You might want to check out the Feminist Porn Awards, founded by our friend Carlyle Jansen. There's also makelovenotporn.com, which consists exclusively of movies uploaded by amateurs. Or consider the Feminist Porn Network for another taste of alt.
When it comes to sex, physical beauty matters. It just does. But beauty is also in the eye of the beholder. Alt porn invites us to challenge our pre-fab notions of what's beautiful. Of what's hot.
"I love holding space for the expression of pleasure," Young says. "It's radical."
She's right. And it's also hot.