Carl Frankel is an award-winning author and entrepreneur.
For twenty years, Frankel's main professional focus was on business and sustainability. A nationally-recognized thought leader, he published a newsletter on green consumerism, served as North American editor for a magazine on corporate environmentalism (not always an oxymoron!), and consulted with non-profits and corporations.
He also launched and ran a social enterprise, Our Community Networks.
Since 2009, Frankel's primary focus has been on sex and relationships. With the sex educator Sheri Winston, he runs the Center for the Intimate Arts, which publishes books on sex and relationships through its publishing imprint, Mango Garden Press, and offers online and in-person erotic and relationships education.
Frankel edited Winston's award-winning book Women's Anatomy of Arousal: Secret Maps to Buried Pleasure. With her, he co-authored her Succulent SexCraft: Your Hands-On Guide to Erotic Play and Practice. He wrote Love and the More Perfect Union: Six Keys to Relationship Bliss, and he won the coveted AASECT Book of the Year Award (2015 sex-ed book of the year) for his Secrets of the Sex Masters.
Frankel is also the author of In Earth's Company: Business, Environment and Sustainability; Out of the Labyrinth: Who We Are, How We Go Wrong, and What We Can Do About It; and The Art of Social Enterprise: Business As If People Mattered (co-authored with Allen Bromberger), which garnered an Axiom business book national commendation.
Frankel is committed to practicing non-violence in speech and action; staying present to complexity, paradox and context; resisting psychic and philosophical calcification, and stating his truth clearly, carefully and respectfully.
Humanists are an endangered species. Frankel is proud to be one of them.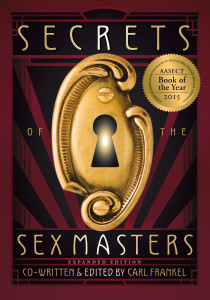 Frankel's Secrets of the Sex Masters won the 2015 Book of the Year award from the American Association of Sex Educators, Counselors and Therapists.