Carl Frankel is an award-winning author and entrepreneur.
His careers have been connected by a common theme—writing. In the 1980s, he ran a boutique market research company that focused on the commercial implications of new technologies. He then concentrated on business and sustainability for the next two decades. During that time, he published a newsletter on green consumerism, served as North American editor for a magazine on corporate sustainability (and the lack thereof), consulted with non-profits and corporations, and became a nationally-known thought leader. He also launched and ran a community-based social enterprise, Our Community Networks.
Since 2009, Frankel's primary focus has been on sex and relationships. He runs the Intimate Arts Center (formerly known as Sheri Winston's Intimate Arts Center), which offers online sex education for adults and publishes books on sex and relationships through its imprint, Mango Garden Press.
He conceived the notion of Erotopia, a land where people have a healthy relationship with sex, pleasure and connection, in the early 2000s. He began writing it in 2013 and finished it in 2019.
Frankel started playing tennis at seven years old, supported himself as a teaching pro in Europe and the United States during his twenties, and continues to play at a high level, with great love and respect for the game.
Frankel is a graduate of Columbia Law School and a member of the New York State bar. He abandoned law in his 20s to become a writer. He lives in Kingston NY with his wife, the sex educator Sheri Winston.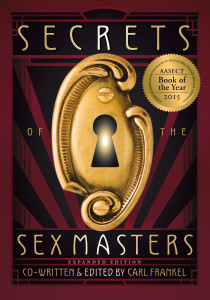 Frankel's Secrets of the Sex Masters won the 2015 Book of the Year award from the American Association of Sex Educators, Counselors and Therapists.